We transform the way you do business to drive innovation, increase productivity, reduce costs and improve controls.
Our consultants have the know-how to quickly assess your current state and the expertise to help you achieve your strategic business goals.
We adjust our perspective based on the roles, industry and expertise of our client's team and customers.
Our proven tools, templated methodology enables you with insightful and actionable roadmaps for your business.
5-Step proven approach to provide you with actionable recommendations:
Listen– conduct group sessions and individual stakeholder discussions
Assess– identify the core challenges and opportunities with your people, processes and technology
Analyze– benchmark your organization against the industry and common business practices
Report– offer new processes, systems and process flows
Recommend– define the optimal future state of your business
We support development of a corporate strategy that supports end-to-end value creation that will unleash your company's full potential, 
We Develop digital strategies that align with your core strategy and propel you to a leadership position in your industry.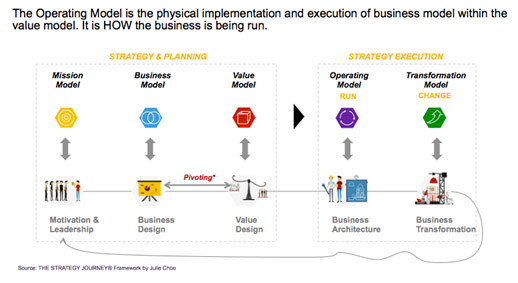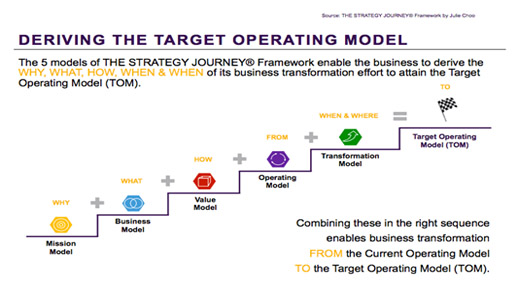 OUR CONSORTIUM HAVE DEEP EXPERTISE IN THE FOLLOWING AREA:
OPERATING MODEL DESIGN – Translating strategy into a small set of specific principles is the crucial first step in designing an effective model. We focus on the specific sources of value in the business.
Digitization
Advanced analytics
Intelligent process automation (IPA)
Business process outsourcing (BPO)
Lean process redesign
We achieve the above through the following building blocks:
Building Block #1: Autonomous and cross-functional teams anchored in customer journeys, products, and services
Building Block #2: Flexible and modular architecture, infrastructure, and software delivery
Building Block #3: A management system that cascades clear strategies and goals through the organization, with tight feedback loops
Building Block #4: Agile, customer-centric culture demonstrated at all levels and role modelled from the top
GROWTH STRATEGY
We advise clients on developing strategic opportunities by providing in-depth market, competitor and customer insights. Our growth strategy capabilities include:

Corporate strategy
Portfolio and business unit strategy
New market growth opportunities
Strategic business model evaluation
OPTIMISATION STRATEGY
Digital transformation strategy
Route-to-market design
Pricing optimisation strategy
Customer segmentation
Sales and marketing effectiveness
FRAMEWORK DESIGN
The McKinsey 7-S Framework
STARTUP STRATEGY
 INNOVATION STRATEGY
In this era of constant change, the way a business delivers value today is dynamic and fluidly. Leading companies recognize the need to continually innovate in order to uncover new sources of revenue, create a sustainable competitive advantage and drive business growth.
From new products, services and business models to the development of replicable innovation processes and a culture that fosters entrepreneurship, our innovation strategy consultants helps you meet growth challenges of all shapes and sizes.
KEY OFFERINGS
Ideation & Rapid Concepting
Pipeline & Portfolio Development
Strategic Transformation
Service Design
Innovative Organization
We deliver this through proven best practices
Transform
Innovate
Envision
Ideate
Co-Create
Grow
BENCHMARKING
We use industry and service-line specific baselines to evaluate where you stand against benchmarks in use of technology, finance, marketing, key process optimisation, services, products, strategy, productivity and operations
BUSINESS PROCESS IMPROVEMENT
We help growing organisations improve their business processes to achieve scalability, growth and sustainable profitability. We also work to enable you to manage cost-effective and efficient operating processes. We balance delivering quick, measurable gains with planning for mid- and long-term process improvements.
TECHNOLOGY ASSESSMENT/ROADMAPS
We drive your technology future state using an agnostic approach. Technology is now at the heart of business processes — it has become the lifeblood of business and competitiveness itself. Choosing from the vast array of technology solutions is among the most vital, yet difficult decisions management must make. Our support helps you select the right technology pathway with confidence.
PROGRAM MANAGEMENT
To help you execute on your roadmap, we drive your internal projects, including organisational improvements and process, technology or people change. Our experts will keep your project on track and running smoothly, and meet all expectations established at the outset.
AGILE TRANSFORMATION & CHANGE MANAGEMENT
We drive successful agile and change in organisations facing all types of inflection points. Whether it's a major change in systems, an acquisition, entering a new market or executing a spin-off. We facilitate and define methodology, framework or strategy for addressing agile and change from a current state to a future state.
EXECUTIVE FACILITATION AND BOOTHCAMP
We enable organisations to tackle major challenges together as a team. We drive strategic working sessions and discussions with team members and C-suite executives to promote future growth, achieve goals and align to a mission. Additionally, we can help connect executives and stakeholders in a closed setting to create a cohesive plan for execution.
INDUSTRY ANALYSIS
Leveraging our deep expertise, research, survey and global trends, we provide in-depth analysis of market size, market trends, competition, market growth rate and success factors, as well as competitive analysis and SWOT analysis.
LEVERAGE THE POWER OF PROVEN TOOLS AND TECHNIQUES
for Strategy positioning and Transformation of your organisation.
STRATEGY TOOLS

Business Model Design
Competitors Analysis
PEST
SWOT
5 Forces Model
BCG Model
5's Strategy Model
Strategy Diamond
SOAR Analysis
SWOT Analysis
CSF/KPI
Potters Diamond
TOWS Matrix
Kaizen Strategy
Innovation Cycle Model
Keller's Bank Equity Model
The Ansoff Matrix
The GE McKinsey Matrix
The Value Discipline Model
Blue Ocean Strategy
Mintzberg's 5 Strategy
Bowmans Strategy Clock
Technology Lifecycle
Kotlers Five Products Level
Weisboard Six-box model
VRIO Model
Ohmae's Model
Porters Four Corner Model